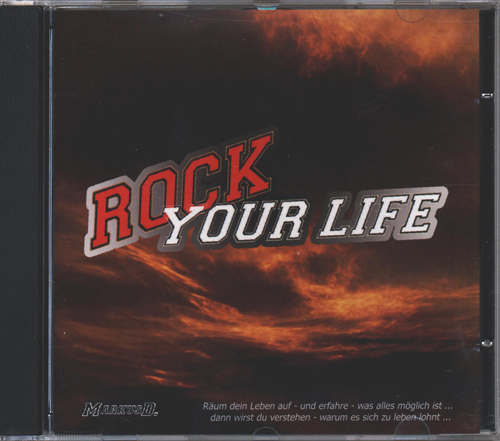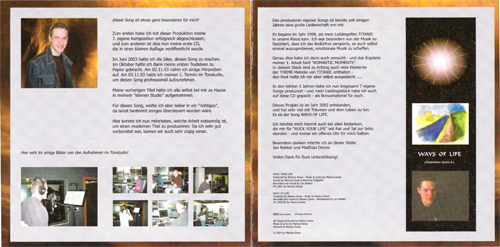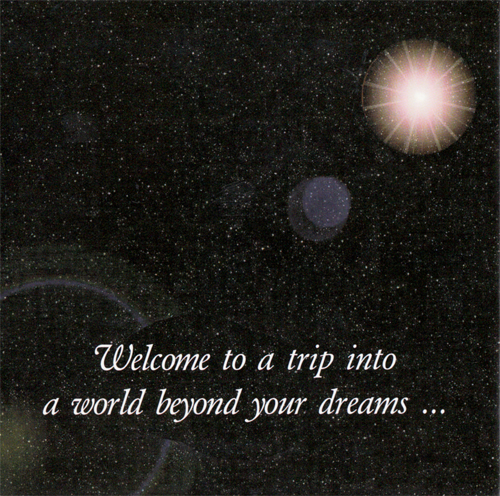 Räum dein Leben auf - und erfahre - was alles möglich ist ...
dann wirst du verstehen - warum es sich zu leben lohnt ...


SONGTEXT (bitte verzeiht mir Grammatikfehler)


INTRO
This could be a story about yourself …
(Dies könnte eine Geschichte über dich selbst sein ...)

When you feel down - or lonely,
(Wenn du dich schlecht - oder einsam fühlst,)
you think about your life and something else.
(denkst du über dein Leben und andere Dinge nach.)
And you wish, it would happen anything to change it.
(Und du wünscht dir, es würde irgendwas passieren um dies zu ändern.)

Take your chance, when the time has come …
(Nutze deine Chance, wenn die Zeit gekommen ist …)



Welcome to a trip into a world beyond your dreams …
(Willkommen zu einer kurzen Reise in eine Welt jenseits deiner Träume ....)

STROPHE
You arrive in the world of magic …
(Du kommst an in der Welt der Magie ...)
can´t believe – what happened with you.
(kannst nicht glauben – was mit dir passiert ist.)

Where you are – what´s your mind ... are you dreaming …?
(Wo bist du – warum bist du hier – träumst du das ...?)
turn around – search for a sign.
(drehe dich um – suche nach einem Zeichen)


See your shining star on horizon - the light in lonely times,
(Siehst deinen leuchtenden Stern am Horizont -
das Licht in einsamen Momenten)
it´s a world of your emotions – a world beyond your dreams.
(es ist eine Welt über deine Gefühle - eine Welt jenseits deiner Träume.)


Like reflections of your life time, like a second image of you.
(Wie Spiegelbilder von deinem Leben, wie ein zweites Bild von dir.)
Find yourself in this adventure, where you are and what you feel.
(Finde dich selbst in diesem Abenteuer, wo du bist und was du fühlst.)

Find your way and follow your feelings,
(Finde deinen Weg und folge deinen Gefühlen,)
take control - it´s in your hand!
(übernehme die Kontrolle - es liegt in deiner Hand!)

And you recognize the people - see the colors of your life.
(Und du erkennst die Menschen wieder, siehst die Farben deines Lebens)

BRIDGE
And you see yourself in pleasure,
(Und du siehst dich selbst als fröhlichen Typen,)
without any sorrow ...
(ohne jeglichen <Kummer/Schmerz> …)
You should try to break your loneliness,
(Du solltest versuchen deine Einsamkeit zu unterbrechen,)
are you ready?? – ready to go ??!!
(bist du bereit?? - bereit zu starten ??!!)

REFRAIN
Rock your Life, and find your way inside your world!
(Räum dein Leben auf, und finde deinen Weg in deiner Welt!)
Open your mind, you should release a broken heart!
(Öffne deine Seele, du solltest ein gebrochenes Herz loslassen!)
You are strong and you´re young,
(Du bist stark und du bist jung,)

feel your energy - and begin!
(spüre deine Energie – und leg los!)

Take your chance, trust yourself,
(Nutze deine Chance, glaub´ an dich,)
and your dreams – your dreams come true !!
(und deine Träume – deine Träume werden wahr !!)

SCHLUSS
Open your eyes – and you will see,

(Öffne deine Augen – und du wirst sehen,.)

that your time has come ...

(dass deine Zeit gekommen ist …)